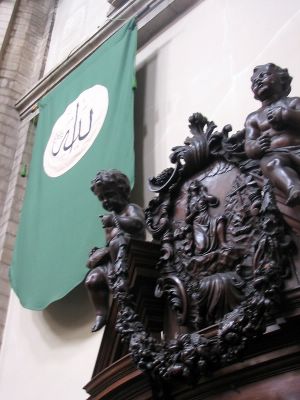 The Brussels Journal reported The Belgian Bishops have opened their churches to illegal immigrants in order to pressurize the Belgian authorities to allow the immigrants to stay in the country. Most of the immigrant squatters in the churches are Muslims. They display banners in the church showing the name of Allah (picture taken in the church of Our Lady of Perpetual Succour, Brussels). The Belgian Bishops are so ignorant that they do not see what is going on: their churches are being turned into mosques before their very eyes.
What will these stupid bishops think when the Muslim squatters kick them out and install their own Muslim clerics and start insisting on Sharia law.
The Muslim squatters hold Islamic prayer services in the church. The altar has been moved and the statue of Our Lady covered by a cloth to hide her from the eyes of the Muslim believers.