Chris Simcox, President of the Minuteman Civil Defense Corps ("MCDC"), today announced plans by the MCDC to work with local Arizona land owners to build border security fencing on private land along the border with Mexico.
And they are not even asking Mexico's permission to do it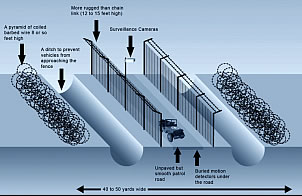 At present, six private land owners have partnered with the Minutemen for the commencement of construction of border fencing on their land. Surveillance cameras on the fencing will be monitored via computer by registered Minutemen across the country. We have chosen a fence design that is based on the Israeli fences in Gaza and on the West Bank that have cut terrorist attacks there by 95% or more. In order to be effective, a fence should not be easy to compromise by climbing over it with a ladder, cutting through it with wire cutters, ramming it with a vehicle, or tunneling under it undetected. No fence can be a 100% impenetrable barrier—but a good design will be time-consuming enough to get through that Border Patrol agents can be alerted to get to a point of attempted intrusion before the intrusion can be completed. We thank Colin Hanna and We Need A Fence.com for the design concept.
Simcox says those involved in the planning hope to keep costs near $150 per foot.
If you want to help, you can
donate
money.